NEW Webinar: What do BizTalk applications look like when migrated to Azure?
by Liz Ruffles
In the second episode of the Azure Integration Group webinars, Affinus CTO Dan Probert goes head-to-head with Dr. Andrew Rivers , Director at 345 Technology to conduct a Deep Dive into the new Microsoft BizTalk Migrator tool – which is due for release this Autumn.
The leading global experts discuss Integration Modernisation – moving your integration solutions from the old on-premises technology to the Cloud. "As more of your apps move to the cloud, and as the financial advantage of going cloud-native becomes ever more compelling, this trend is only accelerating. Since Microsoft announced the BizTalk Migrator in early June, the topic of Integration Modernisation and BizTalk migration has suddenly heated up.
We'll take you on a deep dive through the essentials for migrating a BizTalk application to Azure by showing the differences in design paradigm between BizTalk and Azure Integration Services (AIS), the core infrastructure services to build a service bus in the cloud, essential patterns to implement to ensure good design and the pitfalls to avoid and problems you need to solve to achieve success".
EPISODE 2 – DEEP DIVE ONE – WHAT DO BIZTALK APPLICATIONS LOOK LIKE WHEN MIGRATED TO AZURE?
 30th July 2020
At Integrate 2020 Microsoft announced that their BizTalk Migrator would be available in "Fall 2020". This tool is designed to create an easy journey from Integration apps using on-premises BizTalk Server to cloud-native Azure. In anticipation of the BizTalk Migrator's release, we look at best-practice design for a migrated BizTalk application and speculate on what a tool may be able to generate, and what it won't.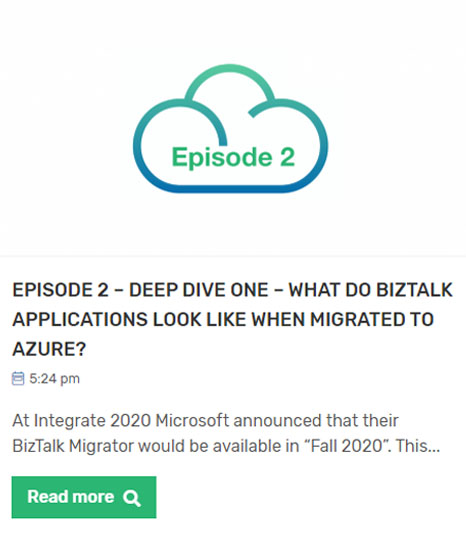 To view the full episode, or to register for future webinar episode, visit www.azureintegrationgroup.com
Previous Post
Back to Blog
Next Post