Dan's BizTalk Migrator Deep Dive on Integration Monday
by Liz Ruffles
On Monday 30th November, our CTO, Daniel Probert, took viewers of an Integration Mondays webinar on a deep dive of Microsoft's new BizTalk Migrator tool.
Dan is fast becoming one of the leading expert voices for this new technology, having followed the tool's development closely since it was first announced. Since its launch in September 2020, Dan has taken part in many webinars, including our own BizTalk Webinar Series, which is co-hosted by Andrew Rivers from 345 Technology.
In this webinar, Dan took viewers on a deep dive of Microsoft's BizTalk Migrator tool, including a demonstration of all the moving parts. He also covers:
how to modify the configuration
how to improve performance
how to create your scenarios
how to debug the tool when it runs
how to view the model built behind the scenes
The session finished with a Q&A with contributions from the wider tech community.
If you didn't get the chance to watch this live on Monday evening – now's your chance. Click on the video below and enjoy.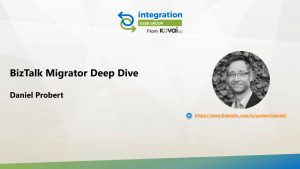 If you're in the process of considering your migration from BizTalk to Azure, get in touch. We're ready to get clients migrating using the BizTalk Migrator – saving them time and money along the way.
Previous Post
Back to Blog
Next Post