BizTalk Migrator Webinars – watch the full series now!
by Liz Ruffles
MICROSOFT SET TO LAUNCH THEIR BIZTALK MIGRATOR IMMINENTLY!
Four months ago, Microsoft announced that they would be launching the BizTalk Migrator this Autumn. Their new tooling translates legacy BizTalk applications into Azure solutions.
For over a decade now Affinus have been supporting organisations in developing Microsoft integration solutions that span on-premises, cloud and hybrid platforms. BizTalk Migrator is an exciting addition to our services that will help to speed up migrations. By automating the process from start to finish, BizTalk Migrator makes the migration process far safer and more cost effective solution than ever before.
AFFINUS SHARE EXPERTISE THROUGH TECHNICAL WEBINAR SERIES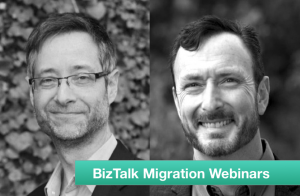 Since June, we have been leading on the development of the BizTalk Migrator. In the lead up to its launch we wanted to share some of the insights that we have discovered in the practical uses of the tool. Therefore, we teamed up with 345 Technology to start a user community – The Azure Integration Group – and created a series of webinars.
We started the series back in June but today, you can watch all six episodes via our resource centre.
Our episodes provide a full overview of the BizTalk Migrator, what we are expecting it to look like and how it should function when it ultimately launches in the next few weeks. We take a deep dive into what BizTalk Apps will look like when migrated to the Azure Integration Services and finally, we share our view on the impact this will have on the on-premises integration space.
Our CTO, Dan Probert, who is renowned for his in-depth technical leadership on all things Microsoft integration, heads up these webinars in collaboration with Dr. Andrew Rivers from 345 Technology. Dan has been involved with Microsoft BizTalk and Azure product groups from the beginning and is a member of the Azure Advisor community. He participates regularly in testing and feedback sessions around upcoming Microsoft technologies. He and Andrew are passionate about sharing their knowledge with the wider integration community and plan to release more engaging webinars such as these as this tool launches and develops.
WATCH THE WEBINARS TODAY
CLICK HERE to Watch the full Microsoft BizTalk Migrator Webinar Series now
Or start watching Episode 1: Microsoft BizTalk Migrator 0 What do we know so far? now…
SIGN UP TO RECEIVE THE LATEST INFORMATION
We are committed to keeping the integration community up to speed with everything related to the launch and development of the BizTalk Migrator tool. If you would like to receive our updates via email CLICK HERE to subscribe.
Previous Post
Back to Blog
Next Post